Directions for Use
---

---
Pellechar 10™ 3-2-3 is a mixture of OMRI Listed® composted chicken manure and biochar, pelletized for easy application. Pellechar 10™ 3-2-3 is an excellent source slowly releasing nutrition for a variety of ornamental plants and food crops. The inclusion of biochar in the product enhances nutrient and water retention.
---
---
---
Directions for Use
Turf establishment – 100 pounds / 1,000 ft(2)
Tree and Shrub planting beds – 80-100 pounds / 100 ft(2)
Food crop production – as directed by regional crop specialist
---
Pellechar10™ 3-2-3 contains naturally composted chicken litter combined with high-grade biochar and it is OMRI certified for organic use.
---
Nutrient Analysis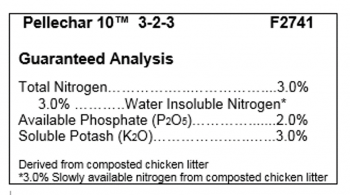 Also Contains
Non-Plant Food Ingredients

Soil Amending Ingredient
10% …. Softwood Biochar
Inert Ingredients (as a soil amendment)
90% Composted Chicken Litter
---
Use Only As Directed
Use dust mask as necessary when applying.
Store product in dry location.
Keep out of reach of Children and Pets.
In NC, application of this product is prohibited except in accordance with the instructions on the label.
Do not apply to any site that is flooded, frozen or snow-covered.
Do not allow surface runoff from carrying any disposed of or stored product residuals into any surface waters.
Do not allow this product to enter any public or private water supply source (including wells) and any stream, lake, or river.
Information regarding contents and levels of metals in this product is available on the internet at http://www.aapfco.org/metals.html